CAMP LOCATION: Salmen Scout Reservation, Camp V-Bar is located in Southern Mississippi approximately 1 ½ hours outside New Orleans, LA.
Salmen Scout Reservation, Camp V-Bar

27585 V-Bar Road

Perkinston, MS 39573

Camp Office: (228) 255-7336

Ranger Office: (228) 255-1336

Southeast Louisiana Council, BSA

4200 S. I-10 Service Road West

Metairie, LA 70001

Council Offices: (504) 889-0388

Council Fax: (504) 889-1162

Toll Free (800) 394-9410
Travel East on Interstate 10 from Slidell approximately 20.2 miles from the intersection of I-10 and I-59 and exit at Mississippi Exit #13. Then proceed North on Mississippi Highway 603 approximately 14.6 miles. This will place you 1.0 mile past the Victory Baptist Church where you will turn right onto Standard Dedeaux Rd. You will see a Salmen Scout Reservation Sign. From this turn, follow the rule: "When going to Camp, Stay Left" you will proceed approximately 2.1 miles, passing the "Halfway Grocery" and come to a fork in the road with a Brick house near this fork. Turn Left and proceed approximately 1.7 miles to a 3 way stop sign. Again, stay left and proceed 0.5 miles to the entrance of Salmen Scout Reservation which will be on your left.
GPS Coordinates are N 30.573383° and W89.356521°
"The Risk Zone" is a state of physical and mental fatigue that is a major cause of highway crash fatalities. As a leader it is your challenge to do all that you can to keep Scouts safe, both at Camp and while traveling to and from Salmen Scout Reservation. Take the Driver's Pledge and get a good night's sleep the night before you come to Camp and on your last night at Camp. The Driver's Pledge is a commitment to plan ahead and avoid killer fatigue.
Camp V-Bar Driver's Pledge
I WILL NOT DRIVE WHEN I FEEL FATIGUED. I realize that when I am fatigued, I process information slower and less accurately, and this impairs my ability to react in time to avoid accidents.
I WILL GET A GOOD NIGHT'S SLEEP before I drive to camp – and my last night at camp.
I WILL MAKE TRAVEL PLANS that take into account my personal biological clock and I will only drive while alert.
A map to camp can be accessed from the Council website by clicking here.
TELEPHONE:
There is a designated public telephone at camp for use by the Troop's leadership. Scouts must clear any personal use of the camp phone with Troop's leadership and must be accompanied by an adult when using the camp phone. The public phone is located just outside the entrance to the Administration Building. Parents are encouraged to purchase disposable Long Distance Cards prior to their arrival for their sons to use while in camp. Incoming calls for Scouts will be accepted on the business phone, and a message will be relayed to the Troop Leader. The call back will be on the public telephone. The business/emergency phone CANNOT BE TIED UP FOR PERSONAL PHONE CALLS.
CELL PHONES:
In an age of technology, cell phones and smart phones are a common tool to use in everyday life. While camp is an experience best enjoyed without the distractions of technology, Camp V-Bar recognizes that their use is more common than ever. Photographs and videos can be taken on these phones, as well as a number of outdoor apps that are available.
If a phone is used, please ensure that it is being utilized in a way that enhances the Scouting experience, and does not detract from the adventure of camp. Telephone call by campers is discouraged, so that inadvertent phone calls to home do not prompt surprise visits from parents during the week. Scoutmasters can and should regulate all phone calls to home in order to avoid home sickness. Camp V-Bar DOES NOT have Wi-Fi or internet access for Scouts.
MAILING ADDRESS:
Scout's Name and Troop Number
? Salmen Scout Reservation
27585 V-Bar Road
Perkinston, MS 39573
Camp V-Bar has many amenities to enhance the Scouting experience. And we continue to improve based on YOUR feedback. Wi-Fi for adult leaders was completed in 2016. 2017 brought both a new campsite (Tunica – across from New Chickasaw) and new latrine facilities in Tunica, Sioux, Chickasaw and Family Camping. Wood Badge course S1-214-18 constructed a GaGa Ball Pit behind the Valero Administration building. This popular game, similar to Dodge Ball, has been a hit with the youth since it was put in place,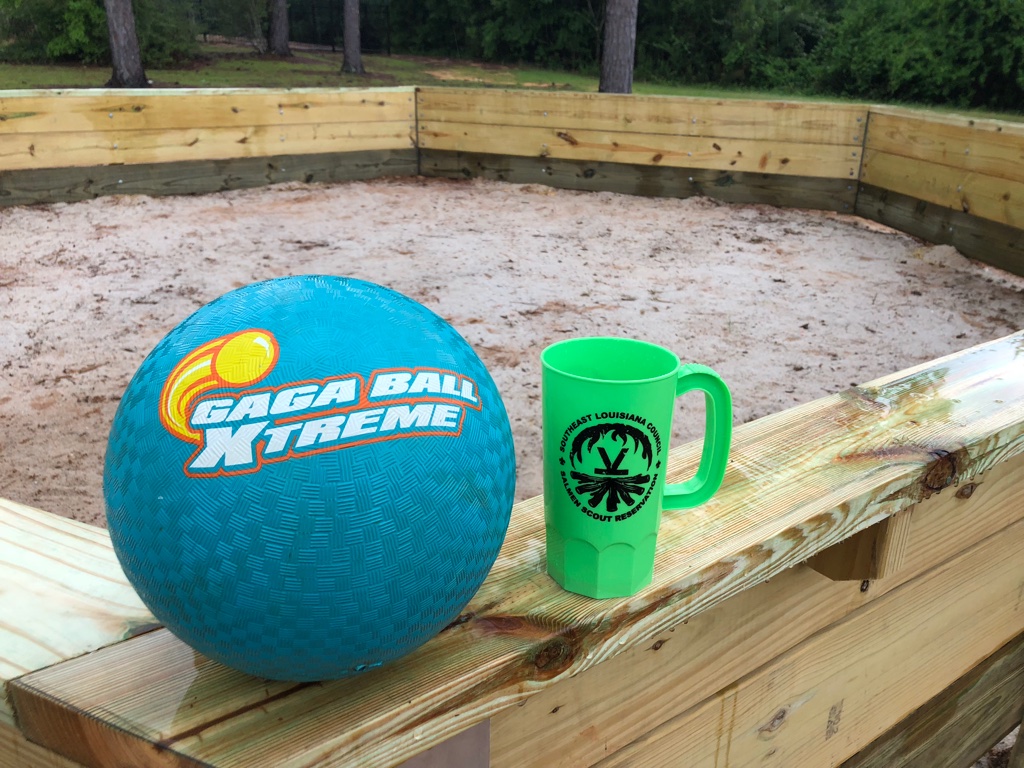 You will love our air-conditioned dining hall that is equipped with a professional grade kitchen! The Camp Staff and Scouts will participate in an active experience when entering the Dining Hall, filled with Scout Spirit. Each Troop will eat at assigned tables, and will furnish a table waiter for each table to assist before, during, and after the meal. There is a ratio of 1 waiter per every 8 individuals. The table waiter should report to the Dining Hall 15 minutes prior to each meal (except for Lunch, instruction will be given while at camp). It is the responsibility of the table waiter to: (1) set his table, (2) refill drink pitchers during the meal, (3) wipe down tables, and (4) sweep the area.
It is important for unit leaders to assist the Camp Staff by not allowing their Scouts to leave the Dining Hall until dismissed by the Dining Hall Steward. The Dining Hall Steward will dismiss the table waiters when they have completed their duties. Scout leaders are expected to spread this responsibility among all boys attending Camp. It is a suggestion that your troop's first table waiter be an experienced Scout, to demonstrate the proper methods to your Scouts. If your Scouts would like certain staff members to eat with them at morning and evening meals, they can pick up that staff members totem on the way to the Dining Hall. Scouts are required to be in Field Uniform for the evening meals.
We serve only water, not sugary drinks, at lunch to help keep Scouts hydrated.
DIETARY NEEDS
The Dining Hall Staff serves well-balanced meals meeting daily dietary nutrition needs. If you have special medical or religious dietary needs, the Dining Hall Staff can accommodate your requests. We ask that you address those needs with the Camp Director by the Early Bird Deadline.
BIRTHDAYS
Do you have a Scout or an adult leader that will be celebrating their birthday while at Camp V-Bar? Please let the Camp Clerk know upon check-in. We LOVE to celebrate birthdays at Camp V-Bar!
S2R Grace
We Thank Thee Lord For all that's Good;
For Food, For Life, For Brotherhood;
For Friends, and Family, Near and Far;
And for the Fellowship of S2R
Amen
Grace
Every morning and evening at the Flag Ceremony, the Camp Chaplain will lead the camp in the Salmen Grace. The S2R Grace is carved in wood on the Administration building, for you to read. It is our hope that you will all learn the S2R grace for use at your own camping trips.
Camp V-Bar maintains a well-stocked Trading Post and Concession Stand to serve you in making your stay more enjoyable. Daily hours will be posted – when the Porch Light is on, the Trading Post is open. Scouts will need spending money to purchase items at the Trading Post. Please send with your Scouts 25¢'s, $1's, and $5's for the Trading Post.
This year we will continue to host an array of evening and free time activities. The evening (after dinner) programs change every year in order to provide a new and exciting experience for each Scout.
ORDER OF THE ARROW
The Order of the Arrow usually holds a night function for troop elections and other enjoyable activities. The OA also hosts Ice Cream socials; open to everyone including non-OA members. Listen for details during morning assembly at camp!
On departure day from resident camps (Summer, Thanksgiving and Winter camps), unit leaders should pick up the merit badge results and other completion materials at the Valero Administration Building. Leaders are responsible for checking their materials and making certain that they have completion information for each Scout for each course in which they were enrolled. This information will show the requirements that the Scout completed during the week. Courses will be shown "COMPLETE" if the Scout completed all merit badge requirements or "PARTIAL" if there are requirements that were not completed. It is the Scoutmasters responsibility to sign for a Scouts completion of any requirements completed prior to camp. An example of this would be the requirement for the Camping merit badge that the Scout show experience by completing 20 days and nights of camping. As this obviously cannot be done during a single week of camp, the Scoutmaster is responsible for marking the completion status of the requirement for troop records.
Camp V-Bar strongly encourages the use of the Troop and Patrol method while at camp. It will be the duty of the Senior Patrol Leader to attend the daily Senior Patrol Meetings and keep the Troop informed on what is happening around camp. The Senior Patrol Leader is encouraged to conduct PLC meetings. If the Troop's elected SPL is not at camp, the Troop should elect or appoint a Senior Patrol Leader to act in his place for the week. The camp experience will bring Patrols together, especially for first-year Scouts. Units are encouraged to bring Troop and Patrol flags with them to Camp.
At Camp V-Bar, it is important to the Staff that Scout Leaders have as many opportunities to have fun, and grow, as the Scouts do in Camp. That's why the Adult Programs were developed. The Camp Commissioner will give leadership to this weeklong program and we hope you will take advantage of the fun. We offer a wide variety of adult opportunities including many basic adult leader certifications and training, cobbler and chili cook-offs, and adult leader shoot–off competitions. Leaders are welcome to participate in all evening programs. We will also have adult C.O.P.E. and Climbing scheduled during the week. Schedules of these programs will be available at the Camp office in your personalized In Camp Adult Leader Guide.
Cobbler and Chili Cook-offs – see if you can impress our panel of highly experienced food critics (hungry staff!) as culinary cobbler creators or as champion chili chefs. You will need to bring your own materials and ingredients, and be prepared to cook your cobbler or chili in your campsite. Judging for both cook-offs will take place on the porch of the Dining Hall.
ScoutMaster / Assistant ScoutMaster Training: as an adult leader in the Boy Scouts of America, you have the privilege of making a positive difference in the lives of the youth members you serve. To serve effectively, you must be trained. The youth members of the BSA deserve a trained leader and there is no substitute for proper training. The programs of the BSA are exciting, challenging and often technical. The information needed to properly deliver these programs to our youth members is not intuitive. Instead, it requires proper training. Time & location to be provided when you arrive at camp.
GATES OPEN AT 1:00 p.m. to welcome your Troop to the Southeast Louisiana Council's shining star…Camp V-Bar! Official Check-in time is between 1:00 p.m. and 2:00 p.m. It is imperative that these times be observed to facilitate the proper orientation and handling for your unit. TROOPS WILL NOT BE ALLOWED TO ENTER CAMPSITE BEFORE 1:00PM. We appreciate your observance of this policy.
Scout leader reports to the Camp Administration Office to check-in the Troop.
At the Administration Office the Troop Leader should "Be Prepared" to:
Turn in FINAL CAMP TROOP ATTENDANCE ROSTER.
Review and revise the Merit Badge Schedule Request.
Settle any unpaid registration fees and pay for special program fees.
The Camp Health Officer will receive Scout medication and dispensing information. All prescription medications except for life saving medications such as inhalers and EPI Pens must be turned in. A Scout not having a Health Form WILL NOT be permitted to engage in physical activities, including swimming, until the Health Form is secured. No provisions are made for medical exams to be administered at camp.
UNIFORMS:
The official Scout field uniform is necessary for wear at camp. Please wear properly and completely. Scouts and Leaders will wear the complete field uniform for evening meals and closing campfire. The Scout activity uniform is worn at both the morning assembly and lunch assembly.
SHOWERS:
Each troop is issued a shower key, which allows access to the two (2) shower houses on camp. The key is ONLY to be used by adult leadership. The adult should develop a shower schedule with their troop. The adult leadership is to accompany the troop to the shower house and remain with the troop until completed. Each shower is a private stall with wet and dry areas. There are two leader showers with flushing toilets. It is the troop's responsibility to keep the showers clean. If you need assistance while at camp, contact the camp administration. Complete guidelines of camp shower usage will be outlined at the Leaders' orientation at camp.
THE OUTDOOR CODE:
All campers are asked to live by the Outdoor Code. Please don't cut down, or damage, in any way, live trees. They will become infected. Make sure any open fires are in the properly designated fire area. Please be sure that your Scouts know and understand the importance of caring for nature as well as camp property.
The Outdoor Code
As an American, I will do my best to
Be clean in my outdoor manners,
Be careful with fire,
Be considerate in the outdoors, and
Be conservation-minded.

A SCOUT IS CLEAN:
You are expected to keep your campsite, latrine, shower facility, and washstand clean. If you need any special maintenance, please report it immediately to camp administration. We will see to it as soon as possible. Toilet tissue will be distributed through the camp Quartermaster. We appreciate your cooperation.
FISHING:
Because of the large range of bank area near the lake, and no supervision except in the Waterfront Area, fishing will be allowed only under the "Buddy System." Scouts are encouraged to enjoy the Joe Domino Fishing Pier. All Scouts and Scouters who wish to do some fishing during their stay in camp will be required to obtain a Salmen Scout Reservation Fishing License. Fishing licenses may be obtained from the camp Administration Office or Eco-Con Director (Summer Camp) at no charge. Scouts working of the Fishing Merit Badge can use fish caught to complete requirements.
MOUNTAIN BIKING:
Camp VBar has several Mountain Bikes available for use. Visit the Administration Building to check out a bicycle. Alternatively, Scouts are welcome to bring up their own bikes for use while at camp. All bicycle use should adhere BSA Bike Safety. Be courteous of other campers.
FIREARMS, AMMUNITION, BOWS, ARROWS AND WEAPONS:
Personal rifles, firearms, ammunition, bows, arrows, and other weapons are NOT ALLOWED in camp. Only those supplied by the camp are permitted, and only in the designated area. Any exceptions MUST be arranged prior to arriving in camp with the Camp Director.
ALCOHOL, ILLEGAL DRUGS AND/OR STIMULANTS:
The use of alcohol, illegal drugs, and/or stimulants on Boy Scout property has long been prohibited. This policy will be strictly enforced for all those who use our camp facility. We will enforce all local, state, and federal laws in these matters.
SMOKING OR USE OF TOBACCO PRODUCTS IN CAMP:
National Scouting policies prohibit anyone under the age of 18 to smoke, or use tobacco products. Leaders who smoke, must do so out-of-sight of youth. Proper "field stripping" and disposal of butts should be done in proper receptacles. National standards require every Scout camp to have a designated smoking area. Camp V-Bar's designated smoking area is the corral behind the Dining Hall.
FIRE AND EMERGENCY ALARMS:
The fire and emergency alarm system will be explained in detail at the Leader's Orientation. Fire protection equipment is to be manned only by members of the camp staff under the supervision of an adult staff member. Scouts should not remove any firefighting equipment, or fight any fire themselves. A Troop should follow the procedures in the Unit Fireguard Chart plan.
LIQUID AND L.P. FUEL:
All liquid fuels should be checked in with the Camp Director upon arrival in camp. The use of liquid fuels (White gas (Coleman fuel); kerosene; liquefied petroleum gas fuels, including propane, butane, and isobutene; vegetable oil fuels; biodiesel fuel; and commercially prepared gelled-alcohol fuel in original containers) and liquid fuel equipment in camp is guarded because of hazards involved in storage, handling, filling, and lighting of such equipment. Fuel can be retrieved each morning to fill lanterns and stoves, and then returned to the storage area. Under no circumstances shall flames of any kind be carried into or used in tents. Empty liquid petroleum cylinders should be returned home. They can explode when heated, and, therefore, must never be put in fireplaces or trashcans. For safety reasons, youth must not be involved in the handling of or the lighting of stoves and/or lanterns. Propane is recommended. Chemical fuels not recommended—Unleaded gasoline; liquid alcohol fuels, including isopropyl alcohol, denatured ethyl alcohol, and ethanol; and other flammable chemicals that are not in accordance with the manufacturer's instructions for chemical-fueled equipment.
PETS:
NO PETS of any type are allowed in camp.
FIREWORKS:
NO FIREWORKS are allowed at Camp V-Bar unless done by an authorized, bonded user for arena show purposes. Personal usage is not allowed. NO EXCEPTIONS!!!
TAPS/QUIET HOURS:
Taps occurs at 10:30pm. All campers are expected to be in their campsites by that time. Unit activities such as night hikes, astronomy, etc…would constitute an exception. Reveille is 6:00a.m.
LASER POINTERS:
Laser pointers are not allowed at Camp.
VISITORS:
Visitors MUST check-in with the Administration Office on arrival and at departure. Parents are encouraged to attend camp on Family Night.
KITCHEN:
The kitchen area is off limits for all except Dining Hall personnel. If anything is needed from the kitchen, please ask the camp administration.
HEALTH & SAFETY:
The Health Lodge is staffed 24 hours a day by persons trained to handle minor accidents or illness. All injuries, regardless of the extent, must be reported to and treated at the Health Lodge. Special arrangements for the treatment of more serious cases have been made with Garden Park Hospital in Gulfport. In the event such treatment is required, the camper's parents will be notified by telephone giving the nature of the emergency, and their desires concerning further treatment will be followed. If the parents of any Scout will not be home during the week he is in camp, please find out where they can be reached and note this information on the Scout's medical form.
The Current Annual Health & Medical Record is to be used (BSA Form 680-001 Parts A, B, and C). Each Scout and Leader who attends camp must have an annual health history attested by parents or guardians supported by a medical evaluation completed within the last 12 months by a competent, state approved, medical authority. The medical forms are available at the Council Service Center at no charge or you can make your own copies from the sample included with this guide. It is strongly advised to send a copy of the Scout's medical insurance card in case there is an emergency with the health form.
At the medical screening given each camper and leader, upon his arrival, the camp reserves the right to refuse admittance or involvement in any activity to any individual who, in the opinion of the examining person and the Camp Director, has developed any physical or medical situation which could present a hazard to the individual or other individuals.
Southeast Louisiana Council troops are covered under the council's accident insurance plan and do not need to provide proof of unit accident insurance upon arrival. Out-of-Council troops will need to provide proof of unit accident insurance upon arrival. If you do not have any accident insurance, contact your council service center at least 30 days prior to camp.
TRANSPORTATION:
Each troop is responsible for safe transportation to and from camp. Troops are responsible for ensuring that all vehicles used are covered by sufficient liability and property damage insurance. A reminder that the transportation of Scouts in "Open Pickup Trucks" is against all National Health & Safety Policies and is also against common good judgment.
SPEED LIMIT:
The speed limit in camp is 15 mph. Please ensure compliance with this requirement for the safety of our Scouts and Scouters.
TROOP TRAILERS:
Trailers may be taken into and remain in the camping area but must be unhitched from the towing vehicle and the towing vehicle returned to the parking lot.
PARKING:
Parking will be in the lot to the left prior to entering camp. Vehicles are permitted on camp roads only for the purpose of unloading and loading. Please take great care when on these roads. Immediately following unloading, please remove all vehicles to the designated long term parking lot outside the main gate of camp and the Brownsea field area on the back side of camp as quickly as possible. No vehicles should return to the campsite until after closing.
WE WANT YOUR SCOUTS!
On Camp V-Bar Staff
Dear Scoutmasters,
The Camp V-bar staff is committed to providing quality merit badge instruction and exciting evening programs in order to give your Scouts an experience that will last a lifetime.
Working at Salmen Scout Reservation has been one of the most fulfilling and exciting experiences of my life. Staff members learn the value of teamwork, and dedication while honing their Scouting skills, leadership and teamwork skill, and making lifetime friends. These are skills I dedicate my life to and expect nothing less from my staff. If your Scouts join our staff, they will become role models for hundreds of youth and make a valuable impression on the lives of others.
If there are Scouts in your troop who you feel are the best of the best, encourage them to join one of the greatest camp staffs in the country. We have a passion for Camp V-bar and we want to see it grow and become even greater as the years progress. In order to do this, we need new staff members with innovative ideas who are willing to work hard to continue the tradition of making Camp V-Bar the great camp that it is. We want your best Scouts. Have them sign up today!
First we MUST have them submit their resume to the Camp Staff Advisor, Tracy Jones. The resumes can be emailed to Tracy.Jones@scouting.org. If interested Scouts do not have a resume they can download a sample resume from the council website at http://secure.bsa-selacouncil.org/document/summer-camp-sample-resume/156329.
Yours in Scouting,
Your Camp V-Bar Staff