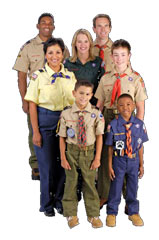 Set Up a MyScouting Account
Create an account to take Youth Protection and other BSA training. In addition MyScouting allows you to access unit, district, and council tools including tour permits; register for National BSA events; and keep in touch with members and alumni with Scouting Community.
If you are a registered volunteer with the Council, you can include your member number from your membership card and your training information will be automatically updated to your BSA member record.
If you cannot locate your member number or are a new leader and have not yet received your membership card, you can still complete the training modules and update your profile later with your member number so you can receive credit for your efforts.